Parties are something which everyone should have even the people who spend a lot of time at the office, being busy with their work. Parties can enlighten the moods of everyone and can make you enjoy your time at Office as well. Celebrations are great ways to release your stress. People often ruin their healthy life and start falling sick because of the continuous work they do. The office work can be very pressuring and might demand your extra efforts and time to complete the deadlines. That is why small celebrations and parties are very important. So when you go for parties, you reverse all that stress and come back fresh with greater focus and an optimistic mindset which can give you more productive scores. Long hours of work without breaks can make you more irritable and lead to poor decision making at the time when the actual need is there. So consolidate your regular learning, enjoyment is very important. If you are planning for a party at Office then you might need these ideas to help you accomplish them.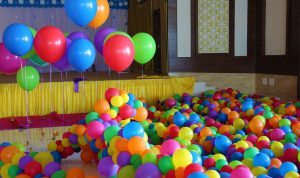 Plan a break- Party at the Office auditorium
Accommodating many people at the same location is a difficult task hence you need a bigger place to plan this out. The office auditoriums are the best in these cases if you are going to invite may number of guests. These auditoriums are built to accommodate more than 100 – 200 people at the same place at the same time. To create the party mood in this place you can Balloon everywhere. Balloons are something which automatically brings the smile to your face. You can fill the auditorium with Balloons, colorful ones or according to some theme. This will surprise your guests the moment they will enter the party hall.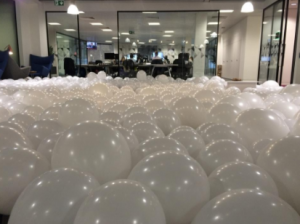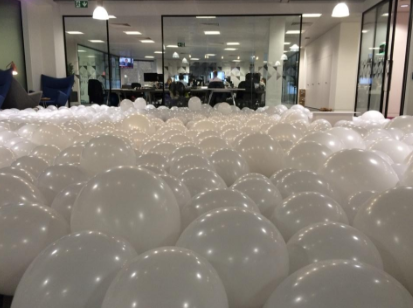 Fun Games in Bay
Sometimes, work can be difficult to handle and you might not be able to take out time for the party. Then you can plan some fun games inside the Bay itself to make your office colleagues relax a bit and enjoy their time. You can make them play many games and if you are thinking of plans which can make your task much more easily then there you go; you have these Balloons. With Balloons, you can plan for many games inside the Bay itself and play them and finally clean off everything without having any hassle.  You can pop the balloons, where you can keep competitions with your colleagues. You can also invite your leads to accompany. Pop the balloons as fast as you can and the one who has popped many numbers in the particular time frame wins it. You can also play catch the balloon where you have to catch the balloon of color you have been asked to and the one who has most of them is the winner.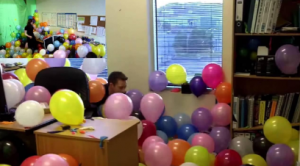 Delicious Food in Cafeteria
The party is always incomplete without the food. So you can also plan to keep many deserts and special menus for your colleagues and can invite them in the cafeteria. To make the place more special you can always add the charm to the place with Balloons. You can add the helium inflated balloons over the table corners where you have put all your snacks and food items. Or else you can also decorate each of the tables with balloons to make it look more special event for your colleagues.  You can also fill the cafeteria with Balloons or plan for Balloon drop when your colleagues enter the place to enjoy the food.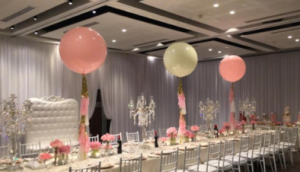 Balloon gate entrance
Balloon decors are amazing and always give special attraction to the place where it is installed. So if you are planning to go for an outdoor party and want to make the place look grander for your colleagues then you can plan for the Balloon arch entrance for them. At the entrance, you can add these arches which will be a guide for them to the place where the party has been organized. This will bring happiness over the face of the colleagues and they can enjoy and relax in the party which has been organized outdoor especially for them.