Office work can be hectic at the time and you tend to become busy completing the deliverables, working hard to clear the deadlines and making money for yourself and your family. And when you start loading up with multiple pressures at work, the body starts reacting too. Everybody has the limit of taking the stress which doesn't go away easily hence it becomes important to come out of it and celebrate, celebrate life. And birthdays are one of those important occasions whose celebration should never be missed.  People tend to forget their birthdays as well because of the strain of their work at times and not giving much importance to one's own birthday has become so common. When we all were kids we already knew that birthday means having a party at home, being treated special, getting many presents from family and friends. But life is really too short and we don't know who is going be where and doing what. Hence birthdays are something which should be celebrated at all the ages and every year. So if you are planning for a birthday party for your colleague at Office then you will need a few ideas on how to implement that which we are going to share here.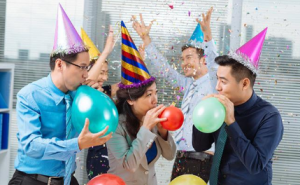 Surprise them with Desk Decoration
This place is like a home to everyone, this is where they have to sit for hours and work. So if you are planning to do something special for your colleague this time which is a surprise as well then you have this wonderful idea. You can plan to decorate their desk and give them the surprise. If you have some stash of streamers, confetti and balloons then this work can be made easy. These balloons are available in all sizes and shapes hence can make your surprise plan a super hit.  You can inflate the balloons, tie their ends with ribbons and hang them over the desk of your colleague to give them the surprise. Or you can stick the colorful balloons all over the desk board to make it look wonderful. You can also add those helium inflated "Happy Birthday" balloons to make it look more special.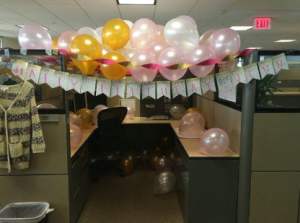 Plan the birthday celebration in cafeteria's
Everyone loves surprises and birthdays are those occasions which itself means gifts and surprises are musts. And if the guests are more then you should plan the surprise at a place which can accommodate many numbers of colleagues at the single place. What could be better than your cafeteria? The cafeterias of Office are usually bigger so that it can accommodate many people at one single go. You can plan the surprise by decorating the cafeteria. And if you are worried about the budget then why not try the same with Balloons. You can make Balloon arches in front of the cafeteria doors to welcome the birthday boy or girl in a special way. You can hang their favorite color big size balloons to the ceilings when cake cutting has to be done. You can also inflate the balloons and tie them all to the table on which cake cutting will be done. Simultaneously the place where you are keeping all the snacks, desserts and food items, you can make them look more wonderful with Balloons.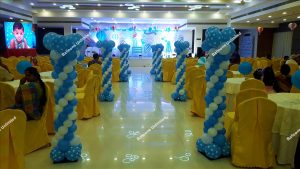 Party is incomplete without Fun games
If it is a Birthday party then it's always incomplete without the fun games. These games will enlighten your moods which were always busy in strains from the work. So this will be like a chilling time for not just the Birthday boy or girl but also the guests. Now if you are planning for fun activities then you obviously need a bigger place; a place where you can sing dance and dance and play games. Now when it comes to the planning of what games you need to add, then what could be better than balloons? This way it will be very easy to plan and implement and won't even take much time to clear everything off after the celebrations. You can plan for Balloon tennis and get your other colleagues involved too, play the song and pass the Balloon and on whom so ever the song stops they have to go for their dare. You can play protect your balloon too where everyone has to protect their own Balloons and pop the Balloons of their other colleagues and special rewards for the winners. You can also plan for pop the balloon fast; you have to pop the balloons as many as you can within the time frame given to you. With Balloons, you can plan many fun games which are easy to play and will keep your colleagues engaged.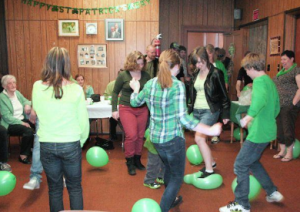 Big Balloon gift Box
This is one more special idea which can be planned to surprise your colleague. You can inflate the balloons with helium and tie their ends with ribbons, at the end of ribbon you can attach the birthday boys or girl's picture and write your personalized message. You can ask them to open the box and when it opens the balloon will flow and they have to catch the balloons for their personalized message. This is one more amazing idea which can be added to surprise your colleague on their birthday.