You would have seen many decorations in the shopping malls. They are always ready with beautiful decors having huge accessories, banners, and whatnot. Be it a festival time or any other important event, their décor is always in place. For a mall, if it's visually not so appealing that is completely unthinkable. This is perhaps the factor which differentiates it from the other shopping malls. There are numbers of malls in one city but these decorations are the ones which either attract more people into the mall or make them run away to some other one. It's not just about the shopping; many people come to the mall to spend quality time with their loved ones, family, entertainment or their dining needs.
So this has become more important for them to play with colors, add new entertainment events or go for décor from which nobody can take their eyes off. A perfect décor makes the people feel the positivity which can impact your business as well when the mood is set perfectly right by a perfect décor. A relevant décor also helps in making the buzz in social media thus giving them the fame element in their business. This is how many more will get to know about them and come to shop here. This can be done with balloons. These balloons are colorful and come in variant sizes. So it's easy to plan for a perfect décor using the Balloons. Not just that, they are cheap, so it's easy to change them and go for a new decoration whenever needed. So, here we are with the best ideas of attracting the people more to the shopping mall with balloons decor.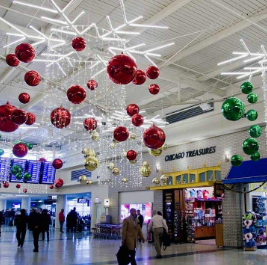 Understanding the Festive season
India is the land of many festivals. Mall décor here reflects their festive spirit as well. This not only makes the place lively but also makes the people feel at home. The decoration gives them a feeling that everything is right in place and also attracts more of them to your shops. Understanding the festive need, you can plan for the relevant décor with the help of Balloons.
The multicolored balloon can be used as per the festival for décor. Like in Holi, as it represents the festival of colors, you can blow up many colorful balloons and tie them up with pairs. This idea of decoration is going to mall the mall look more appealing.
Patriotism in everyone
Our country has seen many up's and down the lines for many years.  The Republic Day and Independence Days are most important ones in them. This day always makes us emotional. Reminds us of the shoulders and those many freedom fighters who gave away their lives just for the day we are in. Make this day more special with our national flag colors. This theme decoration will bring out the patriotism in everyone and also gives rise to buzz among the people. Sometimes these sort of special days helps provide you an instant fame. A good décor coupled with smart digitalization can create the required buzz of where the shopping population is more active.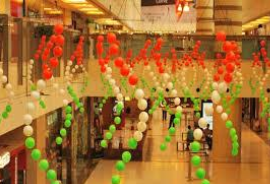 Valentine's day celebration
Décor plays a very important role if it is placed properly in the place where it is required. In the mall you will usually see many couples hanging around together, spending leisure time with each other. What could be a better time other than Valentine's Day for this décor? Planning the décor which gives a classy effect thus not by removing away the essence of the purpose for which this décor is set up is very important. Try to make it more innovative every time. These helium balloons can give that subtle look to the décor. You can use the heart-shaped balloons and give them a lift of helium. You can also decorate the entrance of shops with balloons to attract more customers there.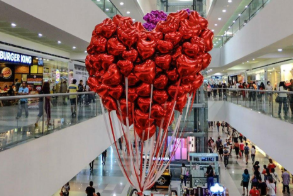 The important factor is to keep it as simple as possible and this has been made easy by the balloons.  These perfect decorations will help you be in limelight amongst the people, attract them more and you have to keep in mind that visual appeal is very important to explore more. These balloons can be mold into anything you want them to and if you want to stand out from the rest then balloons can do the best for you.